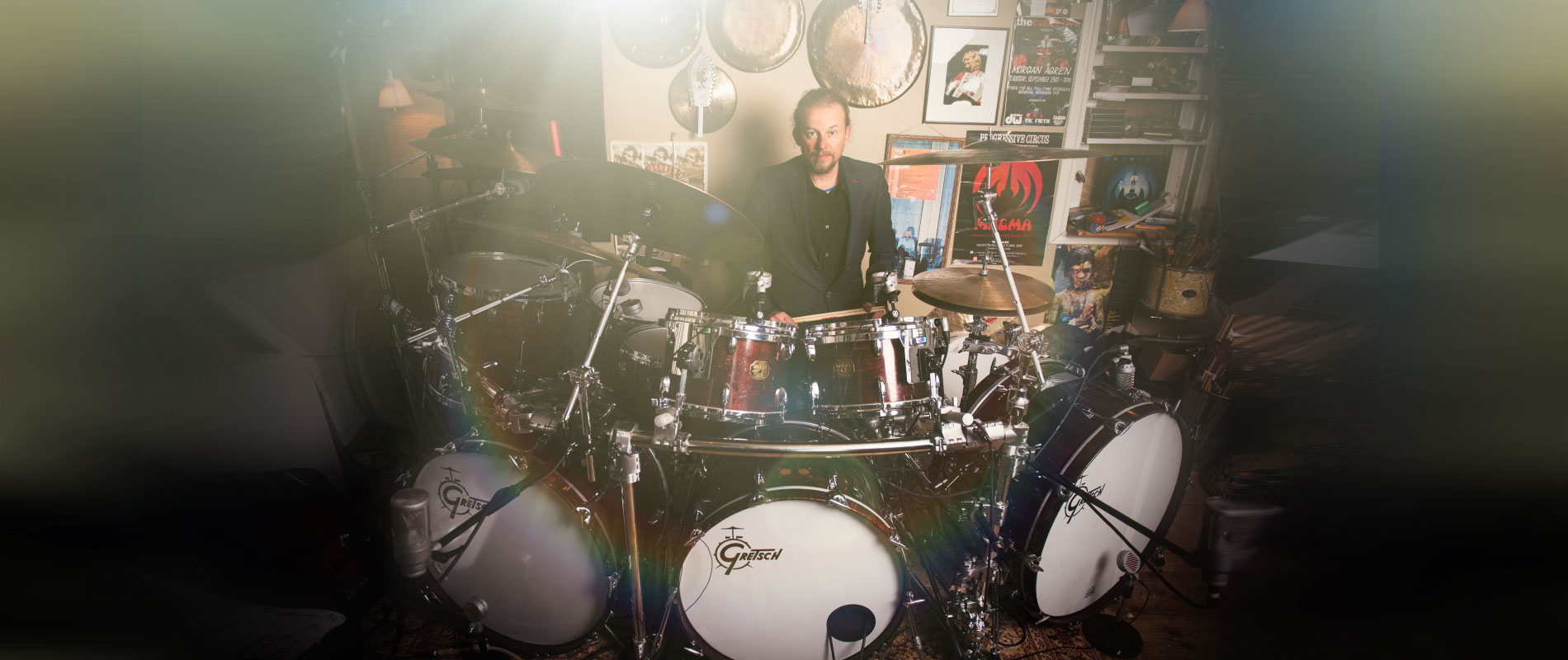 BIOGRAPHY
Morgan Ågren is a Grammy award winning musician on both sides of the Atlantic. Drumming since the age of four, Morgan was spotted as an outstanding talent at a young age. In 1981 he joined forces with his lifelong musical partner, blind keyboardist Mats Öberg. In 1988, still in their late teens, Morgan and Mats received an invite to play with Frank Zappa on projects in the US just before Zappa passed away. Morgan has also played with Devin Townsend, Squarepusher, Bill Laswell, Steve Vai, Trey Gunn, Henry Kaiser, Fleshquartet, Fredrik Thordendal (of Meshuggah), Karmakanic, Spoonman, Glenn Huges, Terry Bozzio, Mike Keneally, Denny Walley, Kaipa, Bolon Bata, and Dweezil Zappa. In 2010 Morgan was voted Best Fusion Drummer in Modern Drummer's readers poll.
QUOTES
"Morgan's ability to react to things musically speaking is very rare.
Maybe the most phenomenal drummer I've ever seen"
– Devin Townsend
---
"I'm a big fan"
– Mark Guiliana
---
"If you don't know who this man is, I'd sugest that you heavily investigate.
One of my absolute favorite musicians, hands down. Wish I had more time in his presence"
– Zach Danziger
---
"I am stunned, these guys have an extraordinary amount of talent"
– Steve Vai
---
"If Morgan would live in the US, he would be huge"
– Dweezil Zappa
---
"Morgan is quite simply one of the most interesting and exciting drummers I've ever heard.
Rhythmically advanced and musical too. A rare combination of modern and classic."
– Gavin Harrison (King Crimson/Porcupine Tree)
---
"Remarkable technical expertise and playing skills"
– Bill Bruford
---
"Absolutely unbelievable, they drove me right out of my mid, it was so good.
Buy their albums!"
– Mike Keneally
---
"The Ingemar Bergman of drums"
– Batteur Magazine
---
"Morgan Ågren is a drummers dream"
– Modern Drummer
---
"Massive talents who combine not only amazing technique but also love for delicious,
unconventional storytelling"
– Downbeat Magazine
---
"They played unbelievably, just unbelievably"
– Frank Zappa
REVIEWS
REVIEWS HEAT BEATS LIVE (CD+DVD)
"Keyboardist Mats Öberg and drummer Morgan Agren are legends in their native Sweden, and had the good fortune to be singled out by Frank Zappa for touring duties during the 'nineties. The music of the CD illustrates why this happened. Öberg, blind from birth, is a keyboard prodigy, while Agren is regularly voted into the top three best drummers in the world. The music is jazz-rock, echoing Zappa, but more often world/jazz-rock supremo Joe Zawinul, and his ilk. Bassist Tommy Tordsson aids the remarkable duo. The tracks, all live, range from heavyweight jazz-rock freak-outs in impossible-to-follow time signatures, to otherworldly Zawinul-esque divertissements. Öberg wrings some great sounds out of his synth…it does grip the listener, especially the insane piano/harp/drums/brass trip cut "The Bösendorfer of Advokaten." The DVD collects sixty-five clips of Agren in action, ranging from studio work to sessions to live cuts. Excellent quality material, and an absolute must for drummers in any genre." –
Simon Lewis and Stephen Palmer, Terrascope,
www.terrascope.co.uk, 2008"
With a collection of eight albums already and the experience of playing at concerts and festivals alike, Mats Oberg and Morgan Agren have a life long rush of musical genius behind them and they are not stopping there…the duo definitely have something huge going for them… The CD, Heat Beats Live, is a collection of the excellence of their live performances done at Stockholm's Club Fasching in May 2005 and April 2007, and in France's Le Triton club near Paris in September 2007… Jazz Rock must have… If you are a fan of any type of jazz music from Medeski Martin and Wood, Frank Zappa, or even trip hop artists such as Bjork or Massive Attack, you need to pick up this album for you collection. It's a decision you won't regret!" [5 stars] Lisa Knapp, Lucidforge, www.lucidforge.com[Ranked number 3 on Loughborough Radio's Alternative playlist] – Jazzwise, November 2008
"If your tastes run to the more experimental side of things, this is a disc you simply must have… Their music is highly charged experimental jazz-fusion with doses of modern classical influences. The musicianship of this duo is first rate; it's absurdly complex at times yet on a dime will become minimalistic featuring tinkling keyboards and harmonica… it's a musical roller-coaster. You will never quite know where the music will be going next because it defies traditional convention."
Jerry Lucky, "My Progressive Rock World", JerryLucky.com
"Their music is influenced by jazz, classical, progressive rock, Magma, Frank Zappa, and jazz-fusion… Most of the songs are very complex and are not in your standard 4/4 time…Mats uses a full range of keyboard sounds creating a very full sound. Morgan's drumming at times reminded me of Terry Bozzio's playing, where they play melodies and rhythm at the same time. He also changes where he accents the beats… and this gives a lot of color to his playing… The highlight of this package for me is the DVD… put together by Morgan Argen… There are over 70 video clips… There are videos of the Mats/ Morgan Band, Frank Zappa and Captain Beefheart tribute bands, Fredrik Thordendal (Meshuggah) and other jazz ensembles… really good close up shots of Morgan playing… so can see what he exactly doing. He definitely has is own style and adds a lot to the music he plays from jazz to metal. I could not recommend this DVD enough to anyone that plays drums or enjoys them… One amazing drummer!" [4 stars] Christian Bernier, Sea of Tranquility, www.seaoftranquility.org
"The live DVD Tourbooks, included in Mats/Morgan's career-spanning compilation Heat Beats Live, opens with a tight shot of drummer Morgan Agren's hands, still for the moment, but poised over a vast drum kit…When he starts, his hands fly over the set, impossibly fast but light-tempered and playful. His expression is a strange combination of grimace and grin, the grimace, one imagines, for the difficulty, the grin for the sheer joy of drumming…Agren is… a drummer's drummer who can flit from cool traditional jazz to proggy rock to howling Swedish metal, without dropping a stick, without batting an eye… Heat Beats Live is…distillation of the pair's technical proficiency and playful musicality, augmented on about half the tracks by a full band. The disc starts with "The Return of Advokaten", a prolonged, fast-paced three-way between Agren's pulsing, storming rhythms, Oberg's cool Return to Forever-ish keys, and Tommy Tordsson's frantic bass. The keyboard takes all kinds of roles here, sounding like an electric piano, an organ and, briefly, a flute. Yet it's the duel in the rhythm section that gives the cut oomph. You quite simply can't believe that both of them can keep up with the pace and complexity of the piece, yet they do so without visible strain…
the most powerful cuts seem to be…the ones where Mats and Morgan go at it, just the two of them, their difficultly paced rhythms matching sometimes and intersecting at odd angles at others. You are struck first by the skill at work in cuts like "Mats Jingle" and "Truvas Rumble"… but then by the sense of play. There is a lightness, a giddiness, a trick-rider bravado to the stunts they pull, as if they themselves cannot stop grinning at what they have gotten away with… Your appreciation for Heat Beats will depend, to a large extent, on how well you tolerate fusion… but Mats and Morgan do it so skillfully that you have to set personal preferences aside… on Trends and Other Diseases… the addition of vocals takes the focus off their really excellent playing and puts it on the melodies. It's much more of a pop take on what they do, a fusion not just of rock and jazz, but of R&B, funk, and diva crooning… there are just far more instruments on Trends than in the live show, and some of them work better than others within the jazz-into-rock framework… Still, the skill level is undeniably high…. If you've got a drummer in your family, pick these records up for him. He'll either thank you or give up his instrument forever." [7 stars] Jennifer Kelly, PopMatters, www.popmatters.com
"Swedish jazz/prog rock outfit Mats Morgan Band owe a lot to the more exploratory flirtations between jazz and rock through the 60's and 70's, especially in John McLaughlin's Mahavishnu Orchestra, and more significantly Frank Zappa's work… The controlled insanity of Zappa comes through in Heat Beats Live… Mats Morgan Band are successful when they go for sustained intensity… It would be criminal to ignore just how amazing the performances on this album are. The bass work is particularly notable. Even though it undoubtedly evokes the jazz fusion of the 80's, particularly when slap is used, bass guitarist Tommy Thordsson ultimately proves to be a strong basis for the musical material above, particularly where Morgan Agren seeks more to add color and spectacle to the band's structure… his breakneck voicings are breathtaking and of the kind of harmonically obtuse chord structures that would make Zappa proud… ignore just how alive these players are in a live format and how well the style does come off when put forth with consistency and structural order. Above all, when on song, Mats Morgan Band is totally ridiculous fun."
Marcus Whale, The Silent Ballet
REVIEWS THANKS FOR FLYING WIT US
Thanks For Flying With Us
"Thanks For Flying With Us is the…seventh record of this band, but…their first effort to be released worldwide.
This album features, apart from the duo Oberg and Ågren, Jimmy Ågren on bass and electric guitar, Robert Elovsson on keyboards, clarinet and vocals and Tommy Tordsson on bass guitar. This line-up started playing with Ågren and Oberg in 2001…
…the music contains a wide variety of references… for example, Bruford, Hatfield And The North, Allan Holdsworth, Jaga Jazzist, National Health and at certain times even Utopia can be heard.
… Thanks For Flying With Us is by far this collective's most mature product up to date. The album is both dynamic and refined, lively but modest and chequered but homogeneous… The dazzling rhythms, the complex shifts and the odd time signatures ceaselessly attract the listener's attention.
…I myself…had a great time with this energetic disc full of demonstrations of metric musical mastership, and I should think that I am not alone in thinking so…"
Frans Schmidt, Prog Wereld, www.progwereld.com
"… To refer to these Swedish musicians as virtuosos is an understatement. While still teenagers, they played as guests with Frank Zappa…performed as part of the Zappa's Universe band in 1993. … Thanks For flying With Us is their seventh album… Like Zappa, their music can range from detailed and complex to simple and melodic. … There are lots of fast keyboard riffs on clav, parallel harmony lines, and changing meters. A few of the tracks have Wardenclyffe Tower-era Allan Holdsworth-sounding soling. Tunes like "ADAT Dropsout I Love You" and "Softma" contrastthese these complex pieces and showcase a slower melodic side of the band. …"Please Remain Seated" has a standout drum solo… The live tracks…allow Mats and Morgan to stretch out in several directions. These guys can definitely play." – Mike Grimes, "Roundtable Review", Exposé, Issue no. 33, May 2006"While the opening track has the influence of Frank Zappa written all over it (that's not a criticism, these guys do an outstanding job of tracking FZ's stylistic tendencies), things get even more varied and adventurous as this disc progresses. … Most of the vocals on the disc are wordless extensions of the overall instrumental approach. The drums and bass provide angular and jagged, yet solid grooves that set up the framework for all the multilayered keyboard interplay that gives these guys–and this disc– a unique sound. …plenty of…ultra-intense moments scattered across the disc; complementing those, several more moody and softer melodic pieces…including one Mats solo…plus some cuts that…hard funk in a sort-of Herbie Hancock style. … Another great one from M/M."
Peter Thelen, "Roundtable Review", Exposé, Issue no. 33, May 2006
"Mats/Morgan have been one of Sweden's best kept prog secrets for over 20 years. … For three musicians (including guitarist Jimmy Ågren) whom have played together most of their lives they truly sound telepathic. The title track says it all: relentless synchronized playing between guitars, keys and drums but smoothly executed. …the band is heavily steeped in complex charts and whirlwind arrangements that are simultaneously spectacular and intricate. "Not us" is pure Frank smiling down from beyond… Oberg is a fine keyboardist – his selection of synth tones is unique, with a heavy digital gear sound, but less metallic. His symphonic approach reminds me of Chick Corea's RTF work… "Softma" rekindles themes that suggest Kit Watkins playing with the Mahavishnu Orchestra. … Overall I can't convey enough how impressive this band is…"
– Jeff Melton, "Roundtable Review", Exposé, Issue no. 33, May 2006
MEETING WITH FRANK ZAPPA
In 1984, me, Mats and some friends of ours formed a band named Zappsteetoot in Umeå/Sweden. Our idea was to play the Music of Frank Zappa. We put a songlist together with our favorite Zappa material, and did a couple of tours and radio shows etc. We olso played at a Society Pages- meeting in Oslo, Norway, when the magazine was located there.
May 1 , 1988 – Johanneshovs Isstadion, Stockholm
In 1988 when Frank came to Stockholm with the Broadway the Hard Way- tour, me and Mats got to meet and play with Zappa on his gig in Stockholm, as guests ! Mats uncle (jazzpianist Bernt Egerbladh) had contacted Franks tour leader and informed him about us, that we were in this band called Zappsteetoot, that Mats had listened to Franks music since he was 8 years old, and that he knew all of his music. So when Frank got to hear about us, he said he wanted to meet us. Me and Mats sneaked in to Franks soundcheck and afterward Franks tour leader came out and told us Frank waiting for us backstage.
We walked to Frank's room, and there he was – our teenage idol and major influence ! We shoock hands and sat down on a couch. Frank started to ask us how we were doing, which of his material we knew etc. Me and Mats ended up playing on our knees and singing. Frank said: "do you know this,…have you played that…" After a while he said: " well I'm amazed that two young guys from a little town called Umeå, knows so much about my music." Then turning to Mats he said : " you have listened to my music so much, – you should know what I look like." Frank took Mats hand and laid it on his forehead, and Mats began to feel how Frank looked ! And Frank said: " Don't forgett the famous nose ! " Frank was so incredible nice to us and we had a wonderful time. We also gave him a tape with our own music, including one Zappa piece, T ' Mershi Duween ,which surprised Frank cause it wasn't released at the time, but we knew it from a bootleg. Frank didn't listen to the tape; there wasn't even a tape recorder there, but he said: " Maybe we should do something…". We didn't have a clue what he was thinking. He scratched his head and said :
" would you like to come up and play T ' Mershi Duween as guests ? We gonna do Big Swifty tonight, and in the middle section of the song there is this open part were everything can happen! So if you walk behind the stage when you hear the Big Swifty theme, I'll introduce you after a while, – okey ?"
The thing was that it was only 30 min before the show, and the audience was already inside the hall, so no time to try the keyboards or the drums. What sound will be on the keyboard? What kind of sticks does Chad use? Questions natural for us to ask ourselves before going up on stage with Frank Zappa facing a crowd of 10.000 people.
To me, most part of Franks show was hard to enjoy, – I had other things on my mind. We were soon suppose to go up and play, and I couldn´t even remember the fucking song that well either, so I had to think about how it really went. We had only played it once before, a year earlier, – the version we gave to Frank on tape.
Showtime!
When the Big Swifty theme came we left our seats, and walked backstage. After convincing one of the guards that we were about to go up and play with Frank, my next problem was I desperately needed to go to the toilet. I had lost the ability to feel needs like that,- I had other things to think about. Another 5 min passed and I really had to go. I started to feel pain, I got totally confused; what would happen if Frank introduces us for 10 000 people, and I'm at the toilet unable to even hear him ? No thanks. I even asked a guy from the crew if I could make it. As if he would know !
But now I just had to do it, I was in such pain I probably wouldn't even play properly. I told Mats: " I got to go, you wait here." Mats were sitting on a case just behind the stage. I ran backstage rooms and found a toilet. Finished my bussiness and just as I opened the door from the backstage rooms, I could hear Frank introducing us. I ran like a maniac, grabbed Mats arm and we went up on stage. Lucky us I was fast !
A huge round of applauds welcomed us. We were at home, and a lot of people knew about us. The applauds just got even louder as I walked Mats over to Bobby Martins keyboards. Bobby said: " here's a yamaha dx-9, and here is the yamaha electric grand – good luck ! " The band kept a reggae beat going during our entrance, which was good; if it had just been silence it would have felt strange, but now we could sort of start our jam from the groove already going. I led Mats behind the keyboards and adjusted the mikestand a little, then I walked to the drum set. A guy from the crew came from nowhere and put a new pair of drumsticks in my hands. Luckily they were the same model I used to play at the time. When Chad saw me coming he stood up, but kept the beat on the hi-hat.
I sat down and continued where Chad left off, but me and Mats soon started to loosen in up to something else. We had to do our thing, so we just jammed for a couple minutes, like we always use to. The drums felt okay, the keyboards too, I think. I felt high up there, it was just totally amazing. I don't like using standard phrases like "a religious feeling" but this was something else, it really was. I was in heaven. Much because of the fact I could see Frank standing in front of the drumset with a BIG smile holding his conductor stick. He really liked what we were doing, and that gave us a big kick. We missed a little during the T´Mershi Duween theme, but we had probably never played as good before as we did then. Scott played along a little and so did Ed and Mike. After we finished, I left the drumseat, and ran to get Mats away from the keyboards, cause the Big Swifty theme had just started again, and Bobby Martin was about to play again, but Mats were sitting in his way . Mats, who is blind, was waiting for me to pick him up ! I got Mats and passed Frank as we were leaving the stage. Frank stopped conducting just for a second to applaud us, and the audience followed with even more volume than before. We walked of the stage and got back to our seats to see the rest of the show.
At the end of the show, Frank introduced the band like he always use to, with a chord in the background, saying: " Ike Willis, Scott Thunes etc. AND…Mats Öberg & Morgan Ågren, thanks for coming to the show, hope you liked it. Good night! " We were sitting in the audience listening to Frank Zappa – introducing us !! When they came back for an encore, Frank grabbed the microphone and said: " Those guys were great !" So guess if we were excited !
After the encores we met in Franks room backstage again. He said we have to do this again sometime and we exchanged addresses. Frank told us that he was looking for a new drummer and keyboard player,and then he just kind of starred at us without really saying anything more. I think he wanted to tease us a little bit too, because he was obviously talking about me and Mats. Frank even wrote down some notes on a piece of paper witch showed his way of notating drums, he gave it to me and told me to get used to it. Then it was time to go home; go home and wait for the phone to ring…
Los Angeles, October 1990
The Broadway The Hardway- tour was then cancelled half way, and it would become the last tour Frank ever did. Two years later in October 1990 I went to Los Angeles hoping to connect with Frank, since we hadn't heard from him in 2 years. I was in contact with a guy named Gerald Fialka, who worked at Barking Pumpkin. He said I could stay at his place if I planned to come over. So I did. I called Mike Keneally the day after my arrival and said hello. Mike called Frank and told him I was in town. Frank had said: " Great, take him over so we can listen to some tapes! "
Mike picked me up and gave me a ride to Franks house, called The House.
We stopped and I asked Mike: "which house is it?" Mike pointed at it, and to me it was hard to imagine that Frank Zappa himself really lived in that house, just looking like any house in the area. I didn't expect anything big or small, it's just that Franks music had meant so much to me so it was strange to me in a way. It's like "his music is much greater than this house" if you know what I mean. I was still kind of young and very excited.
I walked with Mike to the entrance. A videocam zoomed us in behind the prisonlooking gate. Mike annunced in the housetelephone that we´d arrived, and the door opened. There was a lot of bushes and trees around the stairway and at the end of it, another big door opened, – and there was Frank !
I felt just like a little kid; – "Hello! " We hugged and walked in to the Utility Muffin Research Kitchen .
Frank said: " have a seat !" I can hardly explain how great it felt to be there. I had been waiting for two years to hear from him. Frank was ever so nice. There was music in the background; I'm pretty sure he was working on Civilization Phase lll .
A goldrecord of One Size Fits All laid on the floor as well as the original version of Zappa in New York. Frank was very welcoming, and in a good mood. He said he was going to introduce me to some girls upstairs. Mike replied: "I didn't know that Morgan was gonna have his own fan club here…"
Frank said: " I'm sure he will ! " Two very pretty girls came down, giggling, and said hello and stood there for a couple of seconds before they ran upstairs again. I was told one of the girls was actually the daughter of the guy painted on the cover of Overnight Sensation. The guy with the two heads, showering. Pretty funny! I think her name was Lala.
Me, Mike & Frank listened through tapes for a couple of hours including our guest performance from the Stockholm -88 show. Just before it was time to go home Frank asked me were I was staying, and this particular night I wasn't suppose to stay at Gerald's house cause he had a date and I was going to spend the night in a youth hostel. Frank said I shouldn´t have to stay in a youth hostel, and picked up the phone and asked somebody upstairs if the guestroom was vacant. It was and I could stay.
Mike went home, and Frank showed me out to the guestroom, which is located outside, beside a pool. It was very dark outside and there were no lights working I think, and there was only this narrow path to walk. Frank told me to walk carefully and lit a lighter as I walked just behind him seeing barely nothing ! We found the guestroom, and the light was working there. Frank wanted me to hold the door open while he walked back, so it would be easier for him to see. Frank told me I had to wait until a certain time before I could enter the house in the morning, because of the alarmsystem. He had also told me it I was no problem for me to stay there, but that he wasn´t going to be so much of a company since he was about to continue working in the basement, as usual. Which I didn't mind; I was happy just being around ! I was hoping to see him more later on, which I also did. He would come up for coffee or something now and then, and if I happened to be around we talked for a while, before he continued working.
Things that might have happened…
Just before going back to Sweden, Frank was asked to put a band together for an orchestral kind of project in Japan, were he wanted to involve me and Mats. But it was turned down due to financial reasons. Two years later, in 1993, we were once again about to get involved in a cool thing which was also cancelled. L Shankar had called Frank telling him that he was in need of a band to back him up. He was on tour with Peter Gabriel, and they wanted Shankar to be the opening act as well. Me and Mats were in New York doing The Music of F.Z. at the Avery Fisher Hall. We were supposed to go directly to LA from N.Y. and hook up with Frank and Shankar ! The tickets were booked and everything, but Shankar got the flue from hell or something, so we had to do it later. When Peter Gabriel came to Sweden Shankar called me and we met,changed some tapes and stuff, but an opening act was never put in the show.
BEING IN ZAPPA´S UNIVERSE
The rehearsal time that we got for Zappa´s Universe was one week (5 days) in Joe´s Garage, L.A. with "The Rocking Teenage Combo" – which was Scott Thunes, Mike Keneally, me and Mats. Then in New York, we got another 5 days with the full Orchestra of Our Time, all the guests; Persuations, Denny Walley, Dale Bozzio a.o.
Here are a couple of things I particularily remember :
First day in Joe´s Garage me and Mats got there first. We set up our equipment and were ready to go maybe 30 min before the actual rehearsal, so we decided to go out and wait for the other ones to come. We bought something to drink and sat down on the sidewalk. A car went by, somebody stepped out, big guy with long hair, sideburns, sunglasses etc. He opened the trunk and picked out what looked like a bass, and I realized it was Scott Thunes !
I guess you all have heard a million stories about the man, about his personality, him breaking up the 88 tour etc. etc. I had never met Scott before. We had been on stage together May 1st 1988, when we guested Franks last tour, but we never met after the show. Anyhow, I guess we would soon know more about him. Scott locked his car and marched up to Mats and me. I told Mats that Scott was there, and Mats totally lightened up! ( Mats is blind, in case you didn't know. )
When Scott was facing us, he says – " greetings ! ", and we shock hands. Mats says: – " nice to be here ! " Scott reply was:
– " well, I'm not sure about that, that we gonna find out later… It´s to hot outside, I got to go inside, see you…"
I looked at Mats with my mouth open, as we started to imagine the attitude of the next two weeks.
Mike arrived, and when they were ready to play, Mike says "first side on You are what you is " and the next second he counts 1,2,3,4 and
we´re off ! And it sounded GREAT ! We just ripped it , loud and intense.
I could see that Scott liked the way it sounded .
-" But if we wouldn´t have known how to execute all of the 45 songs on the list,…it wouldn´t have been nice to be there" as Mats said on the sidewalk I guess that was Scott´s point… But after the three songs Society Pages, I'm a Beautiful Guy & Beauty Knows No Pain in segue, Scott put down his bass on the floor, threw his pick up in the air and said: "GREAT, this is good,- now we won´t have to rehearse this shit for the whole week, we can go down to the beach and enjoy ourselfs instead !
Suddenly everything was just great, It WAS nice to be there, even for Scott! So, my first impression of Scott Thunes was him being an entertaining character, that turned very sweat to Mats and me. His mood did swings sometimes, but I liked him a lot, and we came along very well I have to say. I have not seen Scott since –93, but I actually sent him an e-mail recently, which he replied, and I wish I could see him soon again.
He was very funny too. One time when we rehearsed with the Orchestra Of Our Time in N.Y., Mats pedal to his electric grand piano broke and fell apart. Scott saw that, put down his bass and walked over to Mats and was standing on all four under the piano fixing the pedal. Conductor Joel Thome started to conduct as he noticed Scott was gone. And when Joel found Scott under Mats piano, fixing the pedal with some tape, he said: " what are you doing ?" And Scott said (in a loud voice) : " I´m taping Mats penis to his leg! "
The people in the orchestra started to laugh off course; the whole situation was really hillarious, with the proper dressed violinplayers and all ! It just wasn't what most people expected to hear in that situation I think, but it was very funny. Very Scott .
He could say things when you expected it the least. Another time while rehearsing at Joe's Garage, a pretty young girl walked in to listen to our rehearsal, and when Scott saw her, he just said (in a loud voice again)
" You can´t have him, he's married !" Meaning ME ! (-was married at the time) I don´t even know if Scott knew the girl, not necessarily I guess.
I miss Scott, AND the girl… – just kidding !
Frank came down the second day!
We were just having a break, and I saw a car coming with Dweezil behind the wheel and… yes, Frank was sitting next to him. They both came in and Frank said hello, how are you etc. and continued with a big smile: "so let me see what you can do now…"
We went into the rehearsal room, Frank sat down on a couch, lightened a cigarette, legs crossed and said "can you play Marqueeson´s Chicken ? ", wich got me confused, because that song wasn't on the list as far as I remember, but Frank wanted to hear it, so we'd better give it a try !
Next song Frank wanted to hear wasn't on the list either… as well as the next and next and next…. He just wanted to see what we really knew from his repertoire. We did really fine though. Mats knows more material than anyone on the planet, believe me. Mike knows a lot too for sure, as well as Scott. So, we basically played everything he wanted. Then Frank said:
" What about Tink Walks Amok ?… lets hear it with just
Mats & Morgan ! " That one worked fine as well (Mats played the bassline on the keyboards). Everything went just great, lucky us !
Later the same day, when we went to Franks house. Me and Mats sat down on a couch, Frank came in and sat down too, and said: "This was one of the nicest afternoons I had in a long time ! " We were in Nirvana.
Later that night Mats completely amazed everyone even more. We went down in Franks studio and Mats got to play the Bösendorfer grand. Frank asked Mats to play another 10 songs, amongst others Sleep Dirt (which is mosty a guitar solo !) but Mats just played it, and Frank said: "well, I didn't know you could do that that one." He was really impressed. Then Mats overdubbed a piece on the Synclavier. Frank loaded something that sounded like Civilization phase lll, and then he wanted Mats to improvise on top. Frank stored the improvisation in the Synclavier entitled Mats. After that Frank started to sing Evelyn as Mats backed him up on the Synclavier with a Gamelan Orchestra sound ! It was so nice, and Frank was in such a good mood, as well as we of course.
How we managed to destroy the Black Page
A less exciting thing happened when our conductor Joel Thoume showed up at the rehearsal with Frank. We tried a couple of things. Frank wanted to hear Black Page #1, but just before we started to play Frank said:
"play it with conducting ".
Now, Joel did not have the score, and didn´t really remember the song I think, because his stick went all over the place and it was just impossible to follow him, or for him to follow us. It sounded incredible horrible. We played it the day before and it sounded just fine, but now after finishing our horrible version the room went dead silence. Frank was not too impressed, believe me.
But the worst thing was that neither Mike or Scott said anything about it.
I mean we played it the day before, why didn't they say something? It was just a conducting problem, but – just silence. I didn't feel that I had the position to stand up behind the drums and bla bla bla, when Scott is not even talking. Scott had played the song with Frank for some ten years, and Mike on one tour so, it was obviously to me that me and Mats would take the rap for it.. I wasn´t gonna take that, so I just said: " It was because of the conducting !"
Another five seconds of silence, then Frank finally said: " okay, play it without conducting " So we did, and we nailed it, so that was a big relief ! A nice happening was when we played Ya Hozna. Frank had heard about Mats abillity to sing and talk backwards. Mats did the backwars parts and Frank laughed his ass off ! When the rehearsal was over Frank got to hear Mats imitate WildMan Fisher as well and Frank said to Mats:
– " you´re wasting your time in Sweden…"